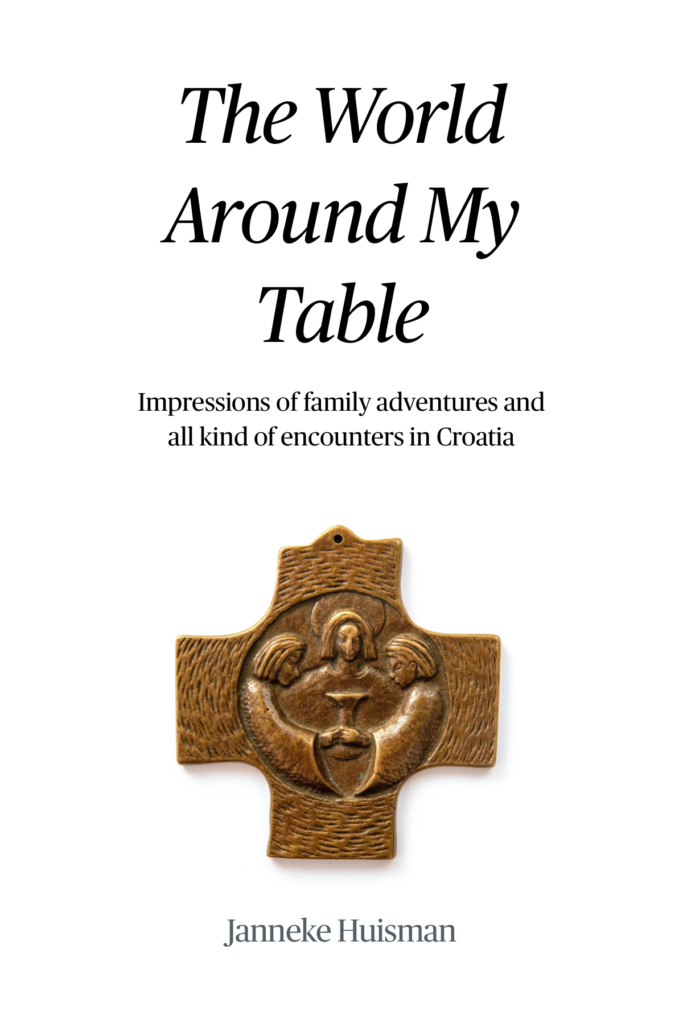 Beneath the chores of our daily duties such as laundry, dishes, cleaning bathrooms, opening, and closing curtains, and changing seasons, there is a Great Story unfolding. In all this, I often forget to pay attention to this Story written by the Creator. That is why I wrote this book—to capture bits and pieces of the bigger Story within my own small story.
In the first part, you read about hopes and promises, fear, and doubt. Are we as a family on the right track? Do we make the right decisions for all of us? In the second part, you discover peace, once decisions are made and about enchanting encounters with people we met on the way. In the third part, you'll get a tiny peek into our daily family life, schooling, ups and downs, and the agony and beauty of learning to live in a different culture. Read and discover in this book bits and pieces of the Great Story for yourself. And while reading I hope that you might see something of the Creator in yours as well.
What other people say:
"Janneke, who dwells among people, who claims, accepts, loves, honors, and forgives all that is beautiful and broken in peoples' stories." (Hye-Jin, a friend and prayer comrade from Toronto, 2010-2012)
"I so love following along on your family adventures and the simplicity and grounded-ness you demonstrate. It is such a blessing to me." (Lila, who came to Croatia in 2017)
"I appreciate your maturity in how you do life with Scripture in mind. May God's presence be tangible to you as you are shaped and trained by Him." (Brenda, the organizer of the psalm meditation project)
Forward for The World Around My Table:
I met Janneke Huisman several years ago at a missions conference in Germany and was immediately struck by her enthusiasm, energy, and heart for people. All people. At this conference and in the years following, I had the privilege of hearing more about not only the Huisman's work in Croatia but also Janneke's love of the written word.
We clicked. We were both writers. One evening, joined by several other missionary-writers, we shared the stories of our writing journeys, and I learned of Janneke's blog. When I read a few of the entries, I learned
something else: she had a beautiful way with words.
A few years later, Janneke invited me to participate in one of her silent retreats. Although the timing turned out to prevent my attending, I followed with interest, admiration, and joy as she shared the results of these 'mini-retreats' for those seeking spiritual rest and renewal.
The World Around My Table is a collection of blog posts that describe her family's journey from The Netherlands to Croatia to work among the Roma. Janneke eloquently shares the joys and struggles, the questions and doubts, that so many of us in full-time ministry face.
I was honored that Janneke asked me to write a forward to this, her first book which reads like a combination of story and devotional. The World Around My Table is a love-offering to those who have followed Janneke's journey and a call to all of us into a deeper relationship with our Creator God. She mixes the sacred and profane in her search for what she calls the Invisible,
the Great Unseen. As I savored her words, I often paused to reflect on simple, yet profound truths. I am sure you too will be blessed to journey with Janneke, around her table.
Enjoy!
~Elizabeth Musser, pastoral care missionary with One Collective and best-selling author of
twelve novels, including, The Swan House, The Dwelling Place, The Long
What is the meaning of the cross on the cover?
It is a gift from my friend Lisa Schobesburger in Austria, who knows what cross-cultural living and hospitality mean: A shared cup and the broken bread until we meet again.
This cross shows the hospitality of God. It shows Jesus sharing a cup with two disciples in Emmaus in Luke 24. It reminds us of the famous icon of Rublev depicting the guests of Abraham in Genesis 18. And resembling the Trinity. There is also a fourth-place for you, the reader. There is always space enough.
About the author:
Janneke Huisman-Karels (1977) is married to Jelle and is the mother of four with whom she has lived in four countries. Born in the Netherlands in a family of ten, she learned that there is always room for more at the table. In 2013 she started blogging about life at TheWorldAroundMyTable.com People from over 120 countries have visited her blogs. Since 2018, she has regularly organized quiet days and writing retreats with a monastic twist.
Order now on Amazon.de (Europe)
Please leave your address here to receive a personal note from Janneke.
What readers say:
Surance from Toronto: Way to go, Janneke! I am so delighted that you have your story published. May God bless you and may it reaches people for the witness of your family journey walking His high calling.
Brenda: Your book is so good!  The simplicity of your images of people gathered, and you bring the fragrance of Christ to the table, touches my heart deeply.  
Laura from Croatia: 
I couldn't stop reading. It is so interesting and light. It is fun and sad, some parts made me cry and some laugh. It is warm like a blanket. Great concept, it is different from blog reading. It is a bigger story now in the book. And you are an amazing author, you paint the picture and atmosphere perfect! And most it is a great showing of how one godly mum and woman thinks. All the Bible verses are at the point, very good.

Looking forward to reading more from your hand.