It's the art of life not to compare yourself with others, especially not who are very experienced, to see if you have a good harvest. If I think about the amount of seed that I'd been sowing, comparing to the harvest I have. Oh. dear. I can count my gardening as a disaster!
But. This week, we're still eating at least four times from the garden. Such joy! Leek, endive, kale, the final tomato and pumpkin that will be turned in a soup.
And I should mention the one and only left over carrot that is not eaten by the mice and those two beetroots that survived the all-consuming rabbits or pigeons.
Every day it's a bit more Autumn here. Soon we will have to clean out the shed and bring the bed inside the house to protect it from the damp. Oh, how many powernaps we've made over the Summer. How many prayers are said, and dreams are dreamed here. The shed turned lately into a storage of all kinds of fruits and vegetables: Apples, pears, courgettes, pumpkins, walnut and fresh eggs from the chicken.
It helps me to set a goal and work towards it. As a new gardener, I didn't set my goals too high. We only have a small three-drawer freezer, so earlier this year I decided to start a 100 jar project.
And so I take stock and realize that harvest is not always measurable. Sowing faithful, generously and regularly, not loosing heart, that is the art and the point where faith comes in. It made me think of Is. 55'. We sow and do not see always the harvest. The harvest is up to the Lord. But, just as water comes down and fills the earth, so is the Word of God filling the heart of his people.
Furthermore: you do not have to grow everything, as long as you can access it conveniently. For example, I was invited to come and do some apple picking, just south of the river nearby. We have to take the ferry to get there.
Yeah! The 100jar Project is finished. It was a lot of work, but I thoroughly enjoyed it.
20 blackberry jam from nearby blackberries, half of it is already gone.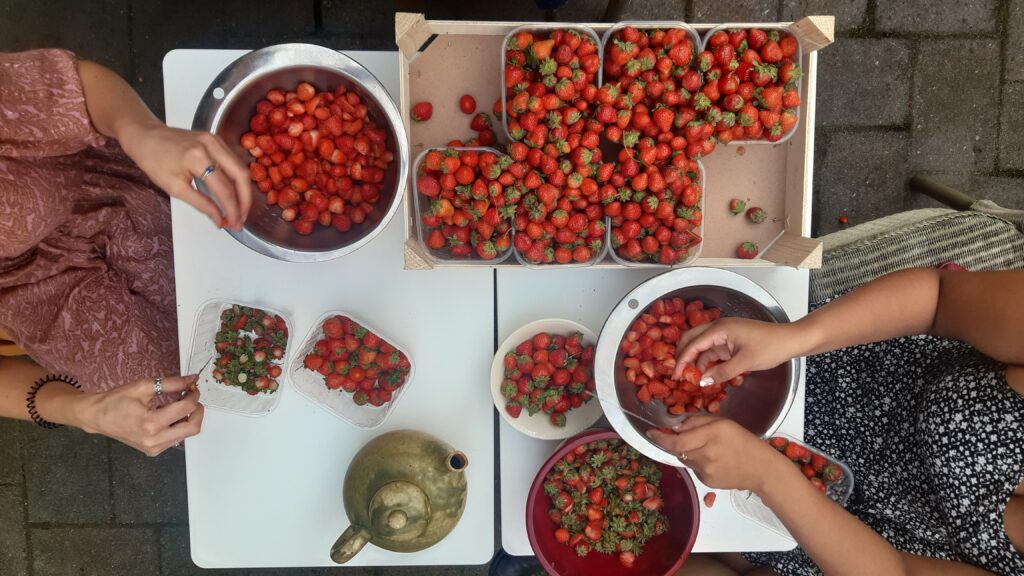 20 times strawberry jam,
10 times rhubarb, (from the vegetable garden)
20 times zucchini in pickle.
30 times apple sauce with freshly picked apples from the Betuwe.
Looking back helps to see what I would do differently next time. Perhaps I will work even more with a sowing calendar or a little more Peeking at the Neighbors Garden;-) And next year I will take a little less garden that I sow more intensively. That also saves weeding!
And now the Autumn arrived and the garden comes to rest and that helps to take a little more rest for ourselves too. The leaves are falling down, and from behind our hot cups of tea we can stare dreamily out of the window. The most beautiful scenery is just visible around us. Enjoy it and go outside, smell the fall and the leaves and the woods, for a while. Listen to the Lord's voice in the changing of the seasons in nature and in our lives.
p.s. What would you like to "harvest" this year? What do you still want to do in these last weeks before Advent and the Packed Christmas time? How would you like to look back on the year 2023? There are many things that are out of our control, but some of them are not. Perhaps it is, just like the garden: to calm down and adjust to a new season in your live. That can be hard work!
The careful reader may see that I playfully apply the Rule of Life Framework to the garden here. Would you like to take a look at your life with me?
Feel free to connect and we can see what I can do over zoom or if you happen to be in the neighborhood, feel free to drop by;-)