First, there is the fun of the preparations: flour from the mill nearby, homemade bread, sweet and savory little things to eat. 
This is what happened in the afternoon of 29 september:
The curtain falls, and Jelle explains that this map has been released by the University of Wageningen. It forms a beautifully sound-absorbing wall. 
The map is from 1698, and the nice thing is that 90% of the city canal is still intact. Even nicer is that in the last few weeks, it has been decided that the city canal will be returned 100% back to its original shape! You will soon be able to walk around the old town again following the canals and look for elements from the past. Jelle is happy to explain.
Alderman Leo Bosland speaking:
On the left in the picture, next to Jelle: Alderman Leo Bosland, who briefly spoke about the situation in Wageningen and the spearheads of the municipality. A few fun facts: Wageningen has 40,000 inhabitants, including 10,000 students, of which 4,000 are international students. 
We all love Wageningen! And I light a candle to celebrate the moment.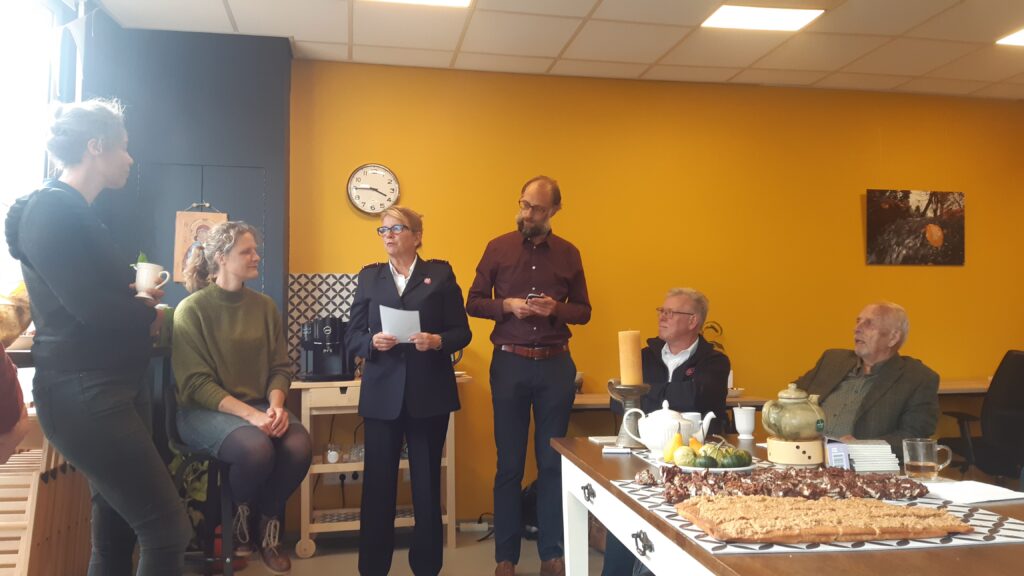 Commissioner Hannelize Tvedt speaking:
Hannelize told us about the results of a study and how people in the age group of 16–24 are getting through the Corona crisis. Most are doing well. But for some, it has been particularly hard. Then she quoted an excerpt from the biblical book of Ezekiel. Ezekiel has a vision of a valley full of dry, dead bones that looked quite terrifying. But by God's power, they came back to life, and it became a whole army! 
There is always hope.
That is the premise of the Salvation Army.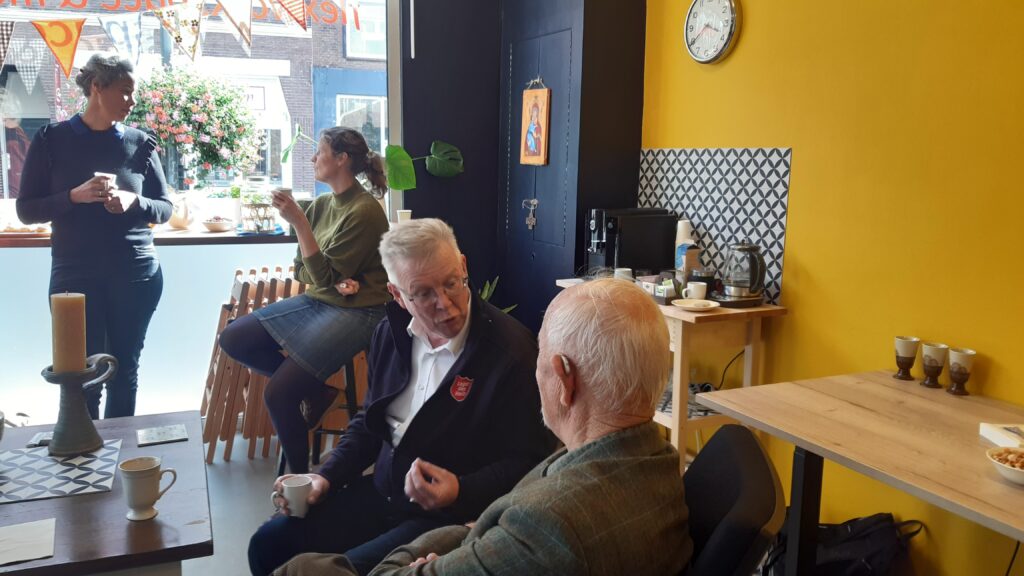 Uncle Jan in conversation with Elzo Edens. Marline with Jamilla who has been working with students for years.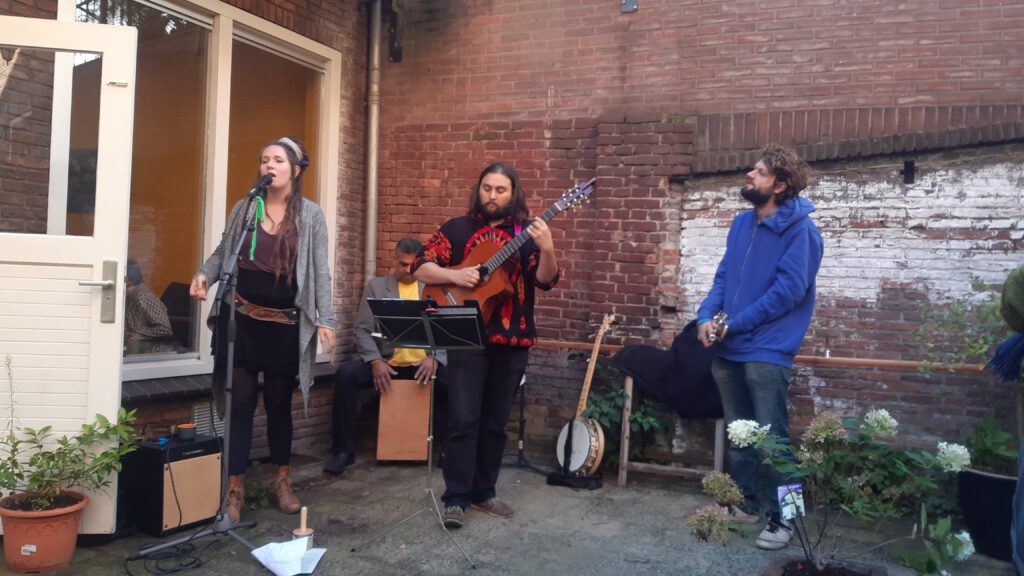 The band from the Ecovillage, (an off-grid village nearby)  brought their own relaxed atmosphere with them.
On Saturday, October 2, we continued our celebration with the exhibition Heavenly Flowers by Jacob Kaptein.
There was a book market and a relaxed open house. How spoiled we are! Flowers, chocolate, coffee, and more flowers!
WerkplekBergstraat.nl is open! (check out the website, if you like)
Flexworkspace&more is written in large letters on the window. &more gives space to what else is or could be discussed. 
Feel free to drop by to use the space as a workplace, for a pot-luck, some good-willed debate, or a cup of coffee—who knows, maybe you will find something freshly baked from the kitchen or a book just somewhere. 
Dreams sometimes come true:
Sometimes plans become a reality. To everyone who has helped make this day—dyers, builders, tips and counselors, supporters and encouragers, dishwashers and dryers, bakers and flower bringers—thank you very much!
We hope that many people in Wageningen will continue to find their way to this workplace!
Are you curious about what has happened in recent months? Take a look here at a blog from April 2021: Tell me more about your work with the Sally's (+video on location)
Here's a photo impression from the start:
Warm greetings, Jelle and Janneke,
Pioneers at the Salvation Army.