Day 1/100: You'll get used to it, ma'am!
You get used to it, ma'am. The doctor said kindly after I scooped up my list of discomforts.
The corona symptoms come in many forms. All that's left is to adjust your active lifestyle.
I thought of what hubby Jelle whispered to me a year ago when we were on a kind of roller coaster. That of applying for a job, writing a plan, finding a property, waiting and letting go.
Lean back and enjoy the ride!
Lean back is not my forte… more like sitting in the front row with raised eyebrows.
But the button is now turned.
So I happily put all the jars and pills down. Drape the fruit that is consumed each day, buy a new teapot and this winter go hard in search of beauty in the small things of the day.
I'll take 100 days for it. Then we look further.
Are you traveling along?
And do you have any suggestions to get better? Besides tea, vitamins, fruit, exercise, and enough rest?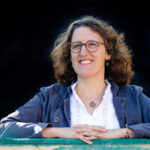 Day 2/100: A bit about me:
Born in 1977 as the fifth in a large Dutch family. Married since 2001 to Jelle Huisman, mother of four with whom we lived in four countries.
I am most at home at a kitchen table. In the hectic pace of life, I am looking for beauty, tranquility, and rhythm.
In 2011, yep, ten years ago. Jelle gave me a blog and said: You're going to like that! Bilingual blogging can be challenging at times, but I have a habit of falling in love with a challenge.
That's why I started this one.
100 days/100 words per day.
And what about you?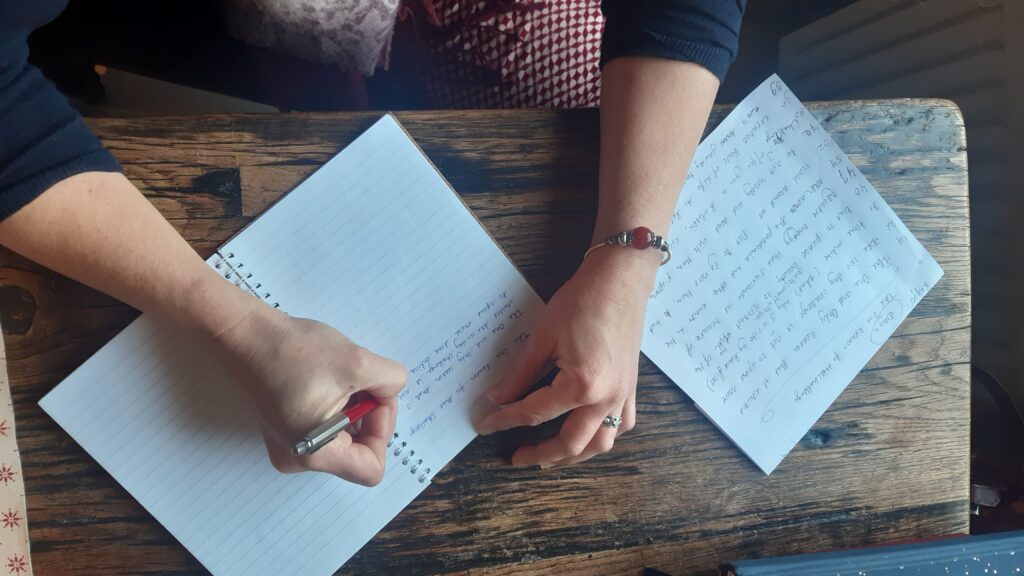 Day 3/100: What is the plan?
What is the plan here? How can I join the 100 day/ 100 words a day challenge? 
If you like: Join in and Make Your Very Own 100 Day Challenge in the way you like it and post it on your own account. (+tag) 
* Write 100 words a day, (quite a challenge, I warn you!)
* Or Do What You like 100 days in a row. Be creative. 
* Or ignore it all, lean back, and enjoy the ride. Watch and see how the plan of my challenge is coming to the surface as time unfolds and stories fall in place.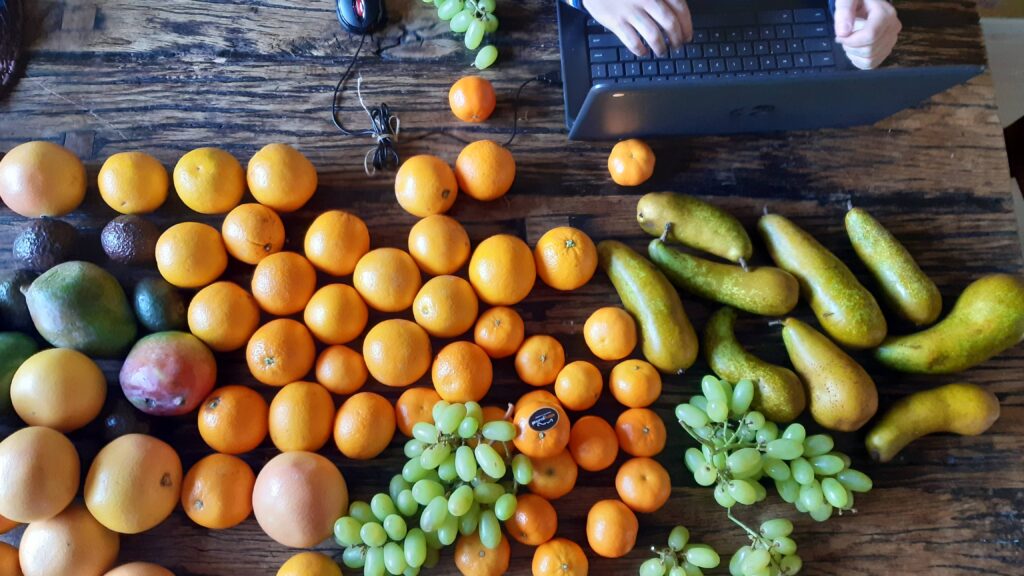 Day 4/100: The One and Only Reason for this Challenge
The One and Only Reason that I started the 100-day challenge is not to spend more time online, but to pursue beauty, to connect with you, and to distract us from the negative energy that surrounds us because of the pandemic, and other events in the world around us. (oh dear! That's three reasons). Not to ignore this all, but to act wisely and deal with it. 
In this challenge, I offer you a Holistic, Playful, Creative Rule of Life to help you live with focus and rhythm.
Like this? Invite your friend here.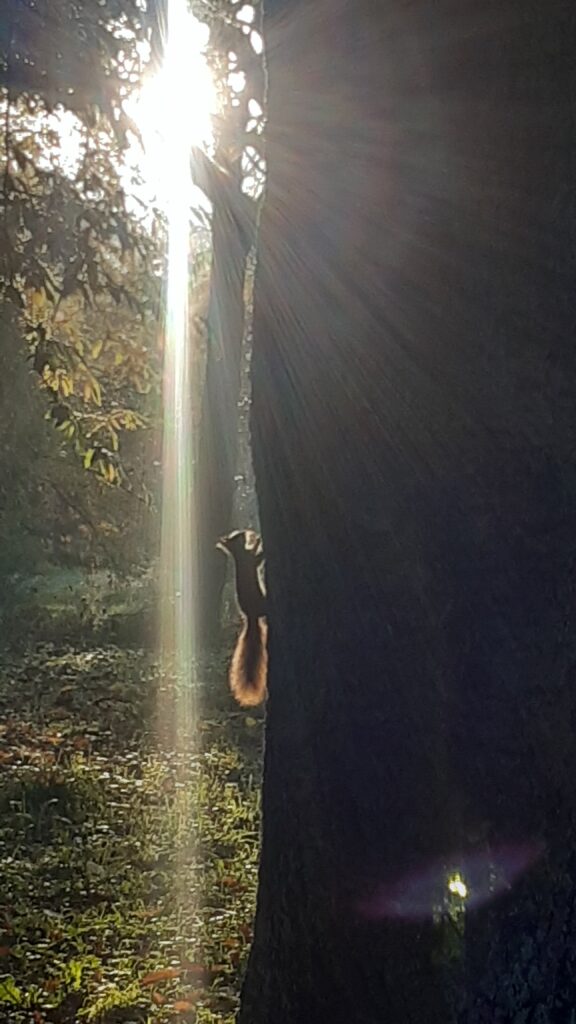 Day 5/100: See that Squirrel!
See that Squirrel! 
Worrying has never made a person grow an inch in all of the history of the world.
The small and big problems roll over each other and pile up. It gives friction, pain, removal, and insomnia. It can control us and get under our skin.
Yet it is of all times and Jesus says in the Gospel of Matthew: Just look at those birds (or squirrels.)  Which of you by worrying can add one cubit to his stature?(Matthew 6:26,27)
Isn't it a darling?
Day 6/100: How Are You?
The first draft ideas are written at 5 a.m. on the back of an old A5 envelope.
That's when I need a break from my coughing and I've seen all the corners of my bed. 
The streets are silent. 
The clock strikes five
The words appear.
The river flows.
The Fun Fact is that it just took a few days to get a feel with the number of words. I write freely till a certain point and think: "I'd better start counting" That's usually around 70 words. 
30 words left to write the climax. The Real Thing.
The only sentence that makes sense:
How. Are. You?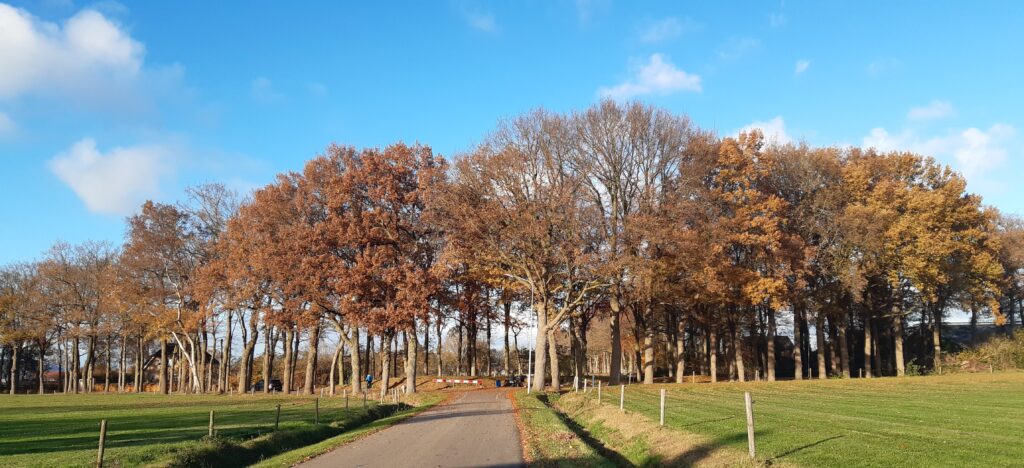 Day 7/100: Pursue Beauty
Hello Sunday!
Just to repeat: Why (day 4) did you start this 100 day/100 words a day challenge?
Three reasons:
(day 5) Distract from the crises

(day 6) Connect with you!

(day 7) Pursue beauty.
And How Do I Do That, you ask? 
I introduce you to a Creative, Playful Rule of Life for the Ordinary Man. 
"HOLD ON. Period. And Celebrate Life."
A beautiful moment for this Well known Beautiful Serenity Prayer:
"God, grant me
the serenity to accept the things I cannot change,
courage to change the things I can,
and wisdom to know the difference."
And: HOLD ON! More later;-)
This is Day 1-7 of the 100 words a day project. I started around halfway through November with the 100-words for 100-day challenge with posting on Social Media. I give you a little peek at My Personal Rule of Life. However, After day 15 I realized that it took way too much time what gives friction with the meaning of a Rule of Life: to live attentively and offline for longer periods of time. So, I changed from Social Media to weekly posts of more or less 700 words. This blog is part of a series: My Rule of Life.