No, not your phone's. I think that is clear. This is about recharging the battery of your very soul. Boy, that's a vague notion. The idea may seem a bit misty. But think of something that energizes you or sucks the energy out of you. Cherishing your soul is, in other words, recharging your battery.
So how do you do that?
Strangely enough, your sensitive soul is a heavily underexposed domain. I often notice that during the retreats, when we play a game to see which domains need more attention, participants cite the S of Sensitivity and nurturing yourself, your soul, as something that often gets ignored. Yet every day, we charge the batteries of our phones and other technical devices.
Look at those plants. They can still look so beautiful in an old bathtub (that I use as a water reserve in my garden), which seems like a good environment, but if you don't water them, they die.
Mini Introduction Course HOLD ON., Part 5 (of 7)
This is already the sixth and nearly last time that you are receiving an email in your inbox about the playful, holistic Rule of Life.
These seven weeks, I'm taking you step by step in a mini introduction course HOLD ON., a holistic Rule of Life. This rule makes the hectic pace of everyday life manageable using elements from monasticism. I hope that you are enjoying it so far!
Where are we in the mini course?
This is part 6 of 7, a small introduction to HOLD ON., the playful Rule of Life that implements elements from the tranquility of the monastery into the chaos of everyday life. Are you playing?
In a nutshell, the mini course looks like this:
Week 1: H of Sacred Ground: A good start, a solid foundation.
Week 2: O of Organizing: Standing still and not moving yet.
Week 3: L of Let's get started! No more delay and get moving now.
Week 4: D of Dear ones around you: The beating heart for others.
Week 5: Oh! My body: Attention to your body: nutrition, exercise and rest.
Today: Week 6: N of Nurture your sensitive soul.
Week 7: . The art of finishing.
An exercise: What makes you jump for joy? Can you cherish that every day or every week? How do you recharge your battery? How do you playfully have a little fun? We, Dutch people are not very good at lounging. We like to get things often done. And quick. So, I had to teach myself how to lounge.
Five more tips for lounging:
Leave home on foot without a plan, see where it takes you.#freespirit
Stroll through your garden or in a nearby park. #wandering
Sit on a bench and watch people. #peace&quiet
Stop at a flower or plant for more than 2 minutes. #focus
Lie on your back and watch the clouds for about 12 minutes. #daydreaming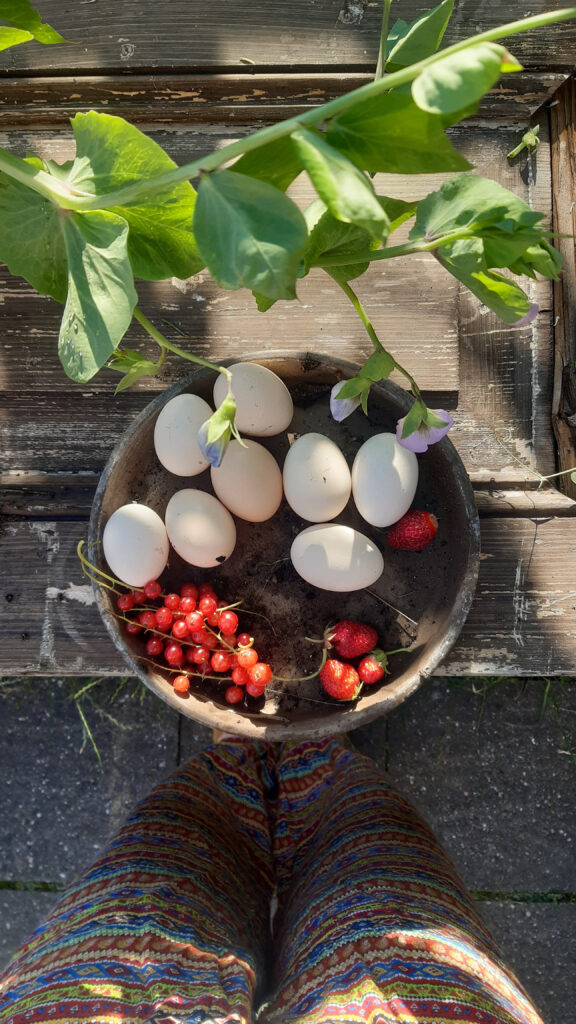 Just dream awaym here my little walk in the garden, just before breakfast.
Check out: The Take-a-Nap Garden Shed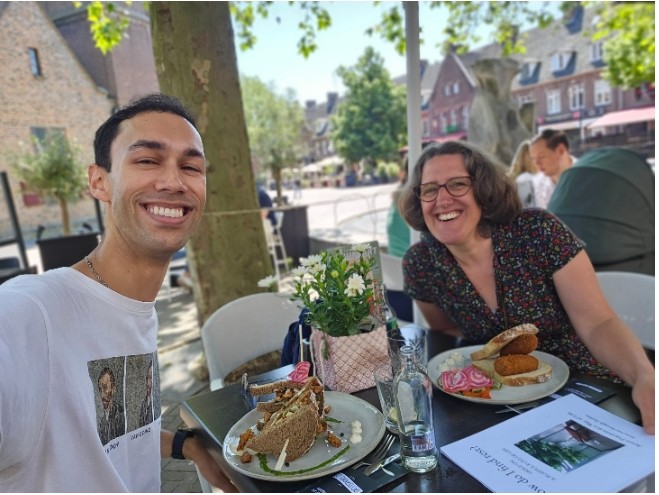 Like Daniel, do you prefer a Personal Rule of Life Retreat Pathway? Here's a snapshot of lunchtime with Daniel. We spent a six-week period together, meeting weekly and going through a chapter. This is what he wrote, shared with his permission.
"Janneke was like a mom away from home in the Netherlands. Here she is guiding me through a book she wrote on how to create a "rule of life", a set of daily spiritual practices for growing closer to God!"
Would you rather just meet for an hour online without obligation? You can always do so: Jannekeonderweg.nl/contact
See you next Friday, the last week! Then we roll into the summer holidays here. That is most apt: ending with rest. I wish you a good finish. In the meantime, don't forget to nurture your soul and recharge your battery!
Take care,
Janneke