"One day we know what it's for, there will be no more riddles; we'll know why we live." Franziska Jagerstratter
Obviously, the pandemic is taking up quite a bit of our attention. Unfortunately, it could make us silently overlook nearly 75 years of liberation since World War II. 
The film A Hidden Life was released in the Netherlands in the spring of 2020. There is no film that has touched me like this one in the past fifteen years. It was on display in Wageningen, and one day, I even managed to get a poster of it, which has now been given a prominent place in our living room. It hangs in plain sight because I seek the pitch of this hidden life, but I do not always find it, and I want to be reminded of it daily. I wonder and look for the answer to the question: Why does this film move me so deeply?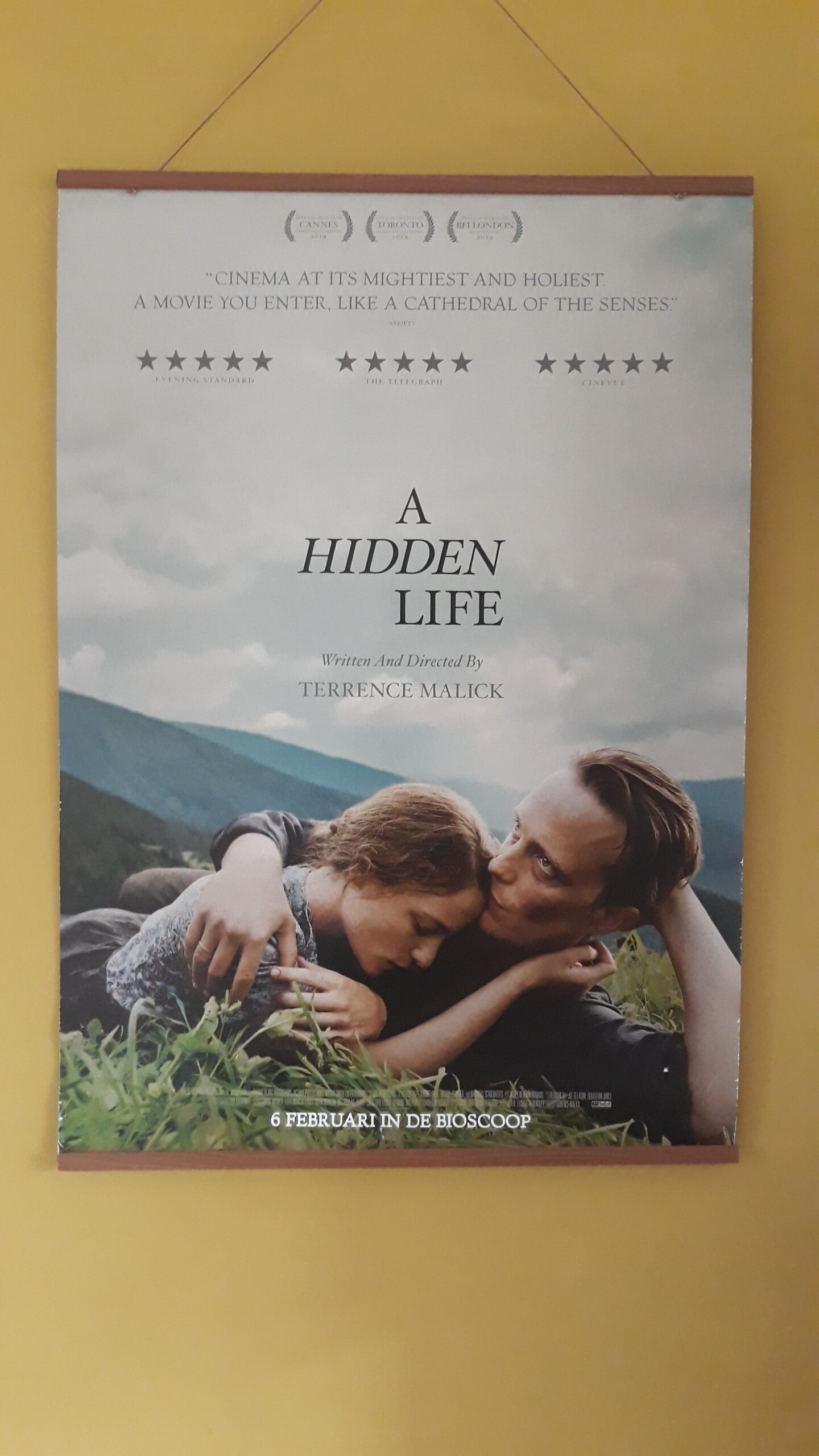 Photo of the wall in our living room
"Some things can only be explained as a riddle," writes Willem Jan Otten in a prominent Christian Dutch magazine the Koers (March 2020), "And perhaps 'explain' is not the right word; maybe we shouldn't ask what we understand about it at all, but what we should do with it." he adds. The film is full of metaphors about suffering and silence, about imitation—about the reasons of the heart, which the heart does not know. About loyalty to people around you and being true to your own conscience. About the ultimate cost of these choices—and about their irreversibility. The film pinches and scrapes my conscience and asks me the question: Do I have the courage to endure such suffering? Is suffering a gift from God?
A Hidden Life
A Hidden Life takes place in the small village of Sankt Radegund. Dietrich Bonhoeffer and Franz Jagerstatter were both imprisoned in Berlin in the Tegel prison in 1943. It is not known whether they met or spoke. When we brought Marijke to Austria in September of this year, we considered driving past it, but it was an extra hundred kilometers. However, we drove through a similar area, of which ​​this film reminded us. The natural beauty is gorgeous—light skies, heavy clouds, mountains, morning dew, and sunlight. This comes out beautifully in the film. The ordinary, simple, hard-working farm life that I love so much is portrayed on the screen in all its splendor, raw and breathtaking. There is also visible a love for life, for everything that grows. For each other, the children. These characters are living with the seasons, working on the land. They sow it with tears and reap with laughter.
The contrast with the gruesome life in prison could not be sharper. In the prison, there is roughness, despair, fear, and the falsehood of cruel men. But there is also the indestructible happiness a smile brings and ordinary playfulness.
Three scenes from A Hidden Life
One of my favorite scenes takes place in the church when the painter refines and restores a mural. He speaks frankly: "I paint all this suffering, but I don't suffer myself. What am I doing here? I make worshipers of Christ, but I don't make followers of Christ. Living with Christ requires a choice. I paint a confident Christ, but one day I paint the real, suffering Christ."
Another beautiful scene is when Fany goes to visit her father to hear more about Franz, who is already imprisoned. Her father only says a few sentences, but they are crucial to an adult daughter in suffering: "You have always been such a good and sweet child, and so was Franz. There is a difference in suffering that you choose or suffering that you can't escape. It is better to suffer injustice than to carry out the injustice yourself."
A third scene takes place in the village festival of Corpus Christi. Franz experiences it from prison and thinks about home. The whole village is celebrating. Everyone is beautifully dressed and happy. The suffering of Christ is celebrated in a festive way because it is the saving power for life. But Fani and her children are left out, rejected because her husband enters death and is thus conformed to His suffering.
Packed with equations:
We see Fany, who, like Mary, says yes to God in faith and surrender: "You will know what to do and it is good what you decide." She is not saying this lightly, without feelings of despair and fear. But in the end, she says it with peace. When I did some research, I found out that Jagerstatter's wife turned 100 and passed away in 2013.
Words that came to mind while watching this film include temptation, mockery, suffering, loyalty, fear, and abandonment. We see Franz, like a lamb being led to the slaughter, following in the footsteps of his Master. At its heart, it says: Trust in the victory of the good. No sparrow falls to the earth without the will of our Heavenly Father.
A quote from 19th-century writer George Eliot concludes the film: "For the world's growing welfare depends in part on unhistorical actions; half is due to the number who faithfully lived hidden lives and rested in unvisited graves. "
A question for me (and maybe for you too)
A main motif in the film is silence—Franz's silence. The silence of God. Fani's silence. It fits an unhistorical act of a forgotten farmer in the last century. The film premiered in February 2020. Within a few weeks, the world came to a standstill due to the pandemic, and this film also fell silent. But I would agree with Rod Dreher: Every Christian should see this movie. Because we may find a little in common with the suffering in this film, which is the result of a choice of the heart, and the suffering that befalls us because of the pandemic. Fany's conclusion is universal: "One day, we'll know what it's for, and there will be no more riddles; we'll know why we live." I hope your suffering will be spared, but if it happens to you, may God grant you the grace to see it as His gift. I pray for your hidden life in peace, it is here that He can be found. 
You probably think: Hey, when is your book coming? Jelle did the final editing today and sent it off to the publisher. It will be on Amazon soon and very soon, so please stay tuned on this blog and make sure that your name is on the e-mail list. (pop-up screen) Next week I will send a few From My Table e-mails to tell you more. And there is even an on-line book presentation on Friday!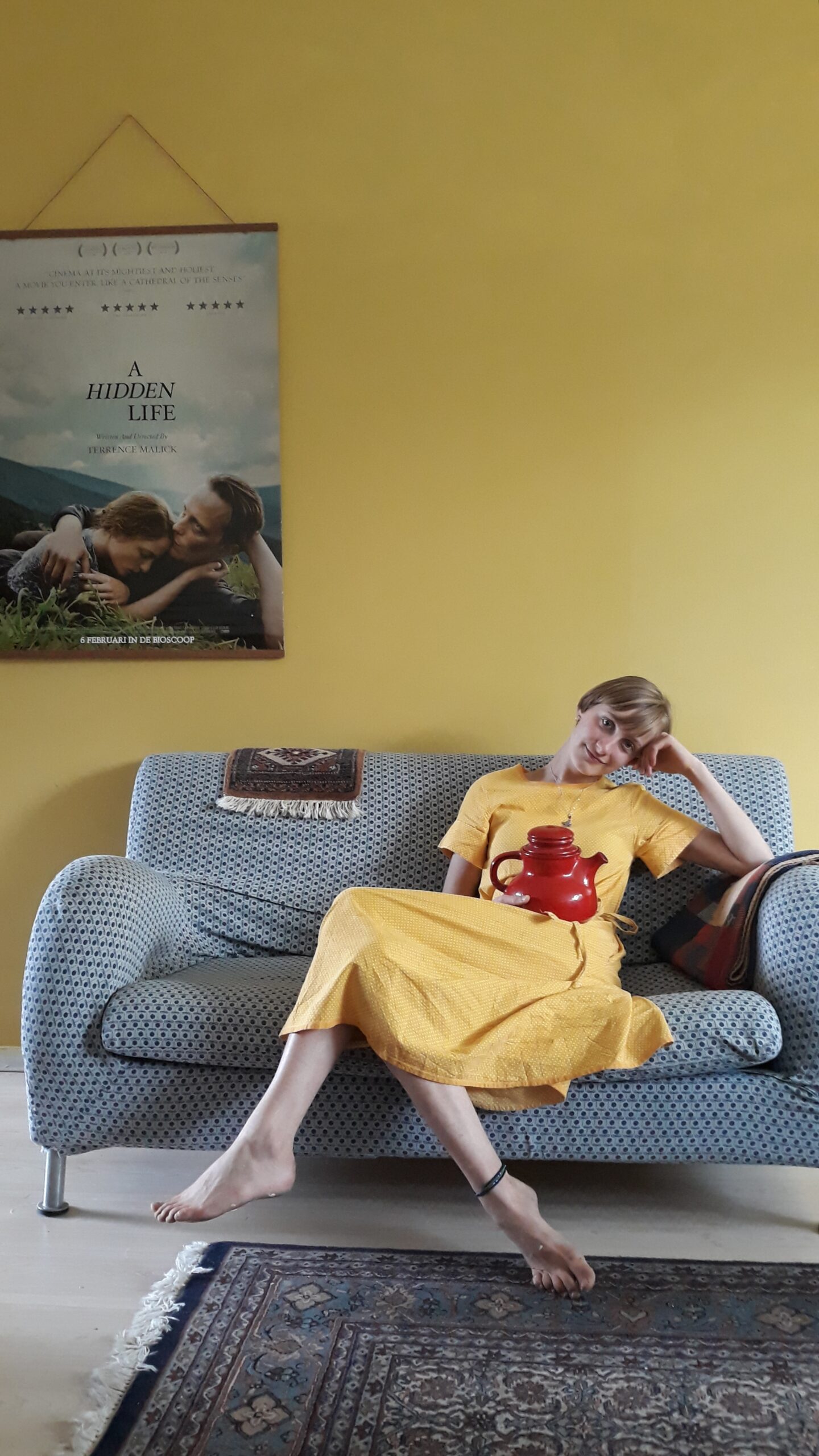 Warm greetings, from my house to yours.